3 Reasons To Have Your Property Pressure Washed Today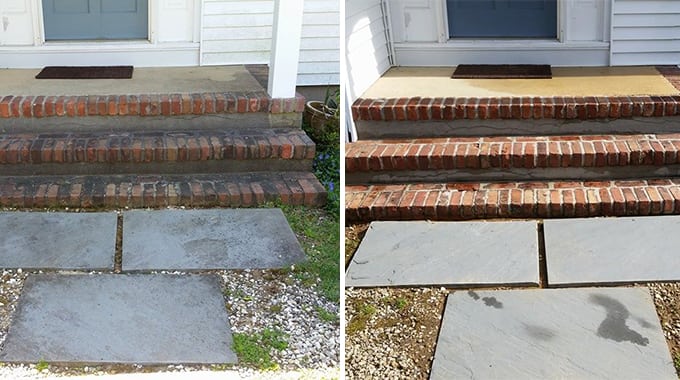 There are a lot of factors that play into the curb appeal and quality of your home here in Middletown NJ. Everything from pollution, weather, traffic, and even animal life can have a major impact on the appearance of your home. Having the exterior surfaces around your home, such as your driveway, sidewalk, and patio pressure washed can do wonders for the curb appeal that it exudes. Hiring an experienced pressure washing company can help you get rid of ugly stains on your driveway and sidewalks as well as provide your home with a wide array of other benefits. Here are 3 great reasons to have your home professionally pressure washed by Evolved Pressure Washing today!
#1 Rejuvenate The Appearance Of Your Home
The concrete areas around your home that is to say: the driveway, sidewalks, patios, and pool decks are often some of the most heavily trafficked areas of your home. Dirt, grime, mold, and algae build up quickly under these conditions, turning what was once bright and clean concrete into dark and dingy eyesores. Our professional pressure washing service will rid these areas of dirt and grime, leaving behind a brighter surface that uplifts the appearance of your whole home!
#2 Maintenance Means Fewer Repairs
In much the same way that periodic maintenance prevents major breakdowns of your vehicle. Keeping your concrete areas clean can help protect your wallet from major repairs in the future. Not only does dirt, grime, and mold buildup look unattractive on your home, these contaminants can wear away the external materials around your home, leading to premature cracking and splitting and ultimately resulting in expensive repairs down the line.
#3 Reduce Slip & Fall Accidents
Slip and fall accidents are one of the most common causes for trips to the emergency room and dirty concrete that is covered in algae and grime are very slippery. With our professional pressure washing service, you will be eliminating potentially harmful substances such as vehicle grease, oil, algae, and mildew, helping to prevent slips and falls accidents. Pressure washing can also help eliminate harmful allergens that could have negative health effects on your friends and family.
Middletown NJ's Complete Pressure Washing Solution
With over 10 years of experience pressure washing homes all over Middletown NJ, we are proud to be known as your experienced and dependable pressure washing services provider. Our team of experts can help you with a variety of pressure washing services for your home such as roof cleaning, gutter cleaning, house washing, and deck cleaning. Browse our pressure washing gallery online to view some of our recent work or contact us today to schedule a pressure wash for your home!
If you are looking for a reliable, professional Middletown pressure washing contractor, give us a call today at [h3phone] or fill out our online request form.
CENTRAL NEW JERSEY'S SOFT WASH & POWER WASH EXPERTS
Evolved Pressure Washing is New Jersey's 5-Star rated exterior cleaning professional with over a decade of experience in pressure washing, soft washing, roof cleaning, gutter cleaning and so much more. We are based in Middletown, NJ and serve all of Central New Jersey with our expert exterior cleaning services. We keep your property clean and shining like new. We know that we are only as good as our last pressure washing or soft washing job so every property, no matter the size, is treated with our top-level care. Our experienced technicians will always advise you on what cleaning options best fit your needs.