3 Ways House Washing Benefits Your Home In Middletown NJ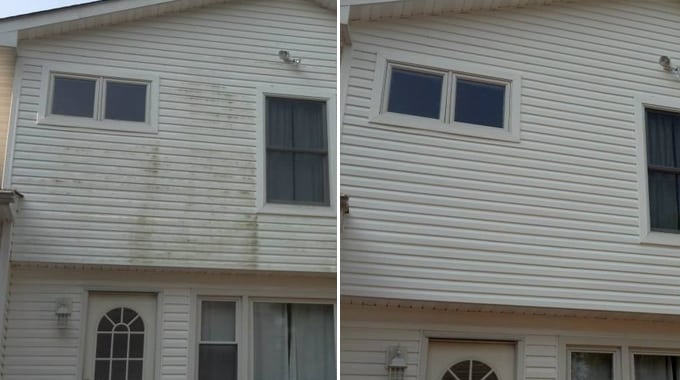 Making your home looking beautiful. It's a goal that millions of Americans spend billions of dollars on each and every year, that includes homeowners right here in Middletown NJ. We all want our homes to be a source of pride, comfort, and safety yet, with each passing month dirt, mold, mildew, and even algae accumulate on the exterior surfaces around your home obscuring the once vibrant paint and robbing your entire home of the curb appeal that it once had. The good news is that you don't have to spend a small fortune to restore the beautiful appearance your home had! As many homeowners in Middletown have already discovered, our soft wash house washing service can dramatically improve the look of your home for a fraction of the cost of other home improvement projects! While the benefits of our service are many, here are 3 benefits you can expect from our house washing experts:
Create Amazing Curb Appeal That Lasts
Your home deserves curb appeal that will make your house the envy of the block. Using our cutting-edge equipment and industry-leading techniques, our soft wash house washing experts get rid of the dirt, mold, and mildew on your home's exterior surfaces. Having our experts soft wash your home helps to prevent long-term damage from these contaminants and leaves it looking just like new. Because we utilize very low pressures when cleaning, our soft wash house washing service is a great option for any type of surface or siding including vinyl siding, brick, and stucco.
The Safe Way To Clean Your Homes Exterior
At Evolved Pressure Washing we have one goal: to make your home look amazing! Our soft wash house washing service is the only way to get the deep, penetrating clean that you want without ever exposing your home's exterior surfaces to the risk of damage that will result from high water pressure techniques.
How do we protect your home? Our state of the art equipment distributes water and specially formulated detergents to your home's exterior at very low pressures, roughly the same water pressure you get from your garden hose. These detergents remove eyesores like mold, algae, dirt, and other stains. Since high pressure is never used you don't have to deal with cracked siding, water damage, and destroyed landscaping.
But just because it is gentle on your home doesn't mean that it is gentle on dirt! Soft washing yields powerful results! After the Evolved Pressure Washing team has accomplished a house washing service, customers commonly remark that their home has:
Curb appeal that elevates their entire property
Exceptional quality that makes an exterior look like new
Siding that is ready to last longer
Oftentimes, customers realize they don't need a new paint job after all!
Maintain The Quality Of Your Home
Modern or historic, vinyl siding or stucco – we take care of it all! Our equipment is designed to address the specific needs of all exterior surfaces. No matter what your home looks like, we strive to deliver algae-free, stain-free, and blemish-free results! In doing so we help you protect the long-term quality of your home. Algae and mold cannot break down and degrade the surface of your home if they aren't present, and they won't be after our service! After our house washing service, your home will look great and it will be in a position to last much longer!
Your Local House Washing Experts
For over a decade we have been helping homeowners in and around Middletown, NJ restore the beauty of their homes. This season it is your turn to experience the benefits for yourself!
If you are looking for a professional Middletown house washing contractor, give us a call today at [h3phone] or fill out our online request form.
CENTRAL NEW JERSEY'S SOFT WASH & POWER WASH EXPERTS
Evolved Pressure Washing is New Jersey's 5-Star rated exterior cleaning professional with over a decade of experience in pressure washing, soft washing, roof cleaning, gutter cleaning and so much more. We are based in Middletown, NJ and serve all of Central New Jersey with our expert exterior cleaning services. We keep your property clean and shining like new. We know that we are only as good as our last pressure washing or soft washing job so every property, no matter the size, is treated with our top-level care. Our experienced technicians will always advise you on what cleaning options best fit your needs.