5 Reasons Roof Cleaning Is Essential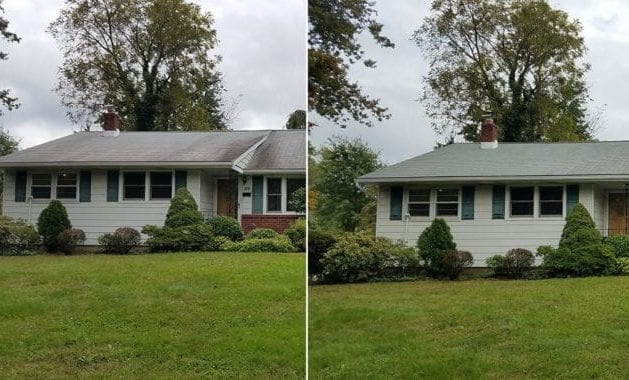 Your roof. The unsung hero of your home. Roof cleaning is an essential service because as the first line of defense against the natural elements, your roof is charged with protecting your family, your belongings, and the home itself against all that mother nature can throw at it. As you would expect with any first line of defense, your roof gets exposed to a lot of adverse conditions here in Middletown and really all of Central New Jersey. Scorching hot temperatures in the summer give way to snow and ice in the winter, not to mention the tons of organic material such as leaves that fall and start to decompose right on your roof. It doesn't take much for your roof to start to look like it's under siege as black streaks, moss, and even lichens take root. At Evolved Pressure Washing our mission is to make sure your roof is armed with all it will need to defend your home and our soft wash roof cleaning service is just the thing to make sure your roof is prepared. Here are 5 reasons why you should consider our soft wash roof cleaning service today:
#1 Improves Curb Appeal
We believe that curb appeal, or how your home looks from the street, starts at the top. Our soft wash roof cleaning service is just the thing to keep your roof looking great. Like a good bath, our roof cleaning strips away layers of dirt and grime, leaving your shingles looking shiny and new!
#2 Removes Dangerous Debris From Your Roof
You may be thinking "no one has ever died from a leaf falling from their roof"…and we would agree. But the danger lies in allowing debris such as falling leaves, branches, and other organic matter to stay on your roof and end up in your gutters where, unless you have them cleaned out, they will cause clogs that could lead to your gutters crashing down off of your home! Our roof cleaning service eliminates this threat before it even begins!
#3 Eliminates Black Streaks
Black streaks on your roof are far more than just an eyesore. They represent a growing threat as Gloeocapsa Magma, the bacteria that causes black streaks, spreads out and literally consumes your shingles. With our specially formulated cleansers, we can eliminate 100% of the bacteria that cause these black streaks and halt their destruction. Protecting your roof and your wallet.
#4 Improves Efficiency Of Your Roof
Have those black streaks widened out to cover your whole roof? If that is the case then you have likely seen an increase in your energy bill. Why? Because of the black coloration of these bacteria, they absorb heat from the sun. In turn, this causes the air in your attic to heat up, which then causes your air conditioning unit to run even longer to cool the same space. Because of this extra running time, your energy bill can increase significantly just from the dirty condition of your roof! Our soft wash roof cleaning service is designed with these black streaks in mind. By eliminating them, your roof will be able to do its job much more efficiently.
#5 Increase The Life Span Of Your Shingles
The reason why that bacteria we talked about, Gloeocapsa Magma, landed on your roof in the first place is that it found a viable food source. It thrives on the filler material that exists in modern-day shingles (typically limestone). If left unchecked this bacteria will eat thru your shingles, absorbing the limestone and leaving a drier, more brittle shingle in its wake. This can lead to shingles that are prone to cracking and even breaking off completely. Our soft wash roof cleaning service is geared towards safely neutralizing this threat by using very low pressures so that we never damage shingles that have been affected by this bacteria.
Central New Jersey's Expert Roof Cleaning Team
For over a decade, the roof cleaning experts at Evolved Pressure Washing have been helping homeowners all over Central New Jersey maintain the quality and functionality of their roof with our soft wash roof cleaning service. But don't just take our word for it. Check out our amazing 5-star reviews on Google and Facebook to see what your friends and neighbors say about our service!
When you are ready, give us a call at [h3phone] or fill out our online request form.
CENTRAL NEW JERSEY'S SOFT WASH & POWER WASH EXPERTS
Evolved Pressure Washing is New Jersey's 5-Star rated exterior cleaning professional with over a decade of experience in pressure washing, soft washing, roof cleaning, gutter cleaning and so much more. We are based in Middletown, NJ and serve all of Central New Jersey with our expert exterior cleaning services. We keep your property clean and shining like new. We know that we are only as good as our last pressure washing or soft washing job so every property, no matter the size, is treated with our top-level care. Our experienced technicians will always advise you on what cleaning options best fit your needs.