Elevate The Curb Appeal Of Your Property With Pressure Washing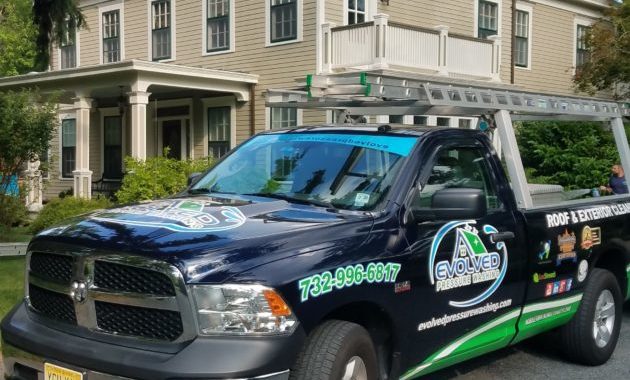 The comings and goings of everyday life here in Middletown, NJ can take its toll on a number of surfaces around your home, but none more so than your concrete areas. On any given day your driveway and sidewalks deal with leaky cars, pedestrian foot traffic, and Mother Nature herself. With a near constant barrage of dirt and other contaminants, it doesn't take long for your concrete to go from bright and clean to dark and dirty. But a dirty driveway and sidewalk don't have to be the first impression that your home makes. With driveway and concrete cleaning service from Evolved Pressure Washing your driveway will be a shining reflection of your entire property – and your sidewalk will be a welcoming foundation for visitors old and new.
An Evolved Approach To Concrete Cleaning
Your concrete surfaces aren't just there for decoration: It's one of the most functional, and well-used, parts of any property. But concrete is a porous surface, so when it gets lots of wear and tear it doesn't disguise it well. From vehicles to foot traffic, your concrete can become an eyesore of accumulated dirt. And that's not exactly the first impression that you want your property to make.
Our evolved approach to concrete cleaning ensures that our pressure washing technicians remove the bad buildup and eliminate stains for good. Our driveway and concrete cleaning services combine state of the art equipment and specially formulated detergents to completely treat your concrete, restoring the bright and vibrant appearance that it used to have.
At Evolved Pressure Washing, our experts provide concrete cleaning service that:
Removes dirt, oil, grease, chewing gum, and other stains
Protects the long-term quality of your concrete
Prevents slip-and-fall accidents
Enhances the curb appeal of your home
Is Something Eating Your Roof?
The answer to the question above is simple; if you see black streaks on your roof, then the answer is YES! Gloeocapsa Magma is a type of bacteria that feeds on the filler material (typically limestone) that is present in most modern shingles, and it is responsible for the visible black streaks you see on your roof. This bacteria is carried about by the wind currents and once it lands on your home it gets busy replicating itself and literally eating your shingles. Like most bacteria, a single sample is microscopic, so by the time you actually see the black streaks spread out across your roof, your home has been under attack for months without you even knowing it. As the bacteria spread the shingles they affect become brittle and prone to cracking. Tiny holes often develop which eventually allows water to penetrate your roof and attic creating a very expensive problem to fix!
Expert Soft Wash Roof Cleaning In Middletown, NJ
At Evolved Pressure Washing we use a specialized process known as soft washing to clean and sanitize your roof. Not only is it the safest way to restore the appearance of your roof it is also the most effective! Using very low pressure, we apply our specially formulated cleansers to your roof. These cleansers kill 100% of the bacteria, mold, and algae while loosening dirt and debris at the same time. Things like lichens and even moss don't stand a chance against our roof cleaning service! Then as the growths begin to decompose and the root systems release from the roofing material mother nature does the rest by gently rinsing your roof off. This gentle yet powerful process, in the hands of our skilled technicians, is the best way to eliminate black streaks without harming a single shingle!
Service You Can Trust, Results You Can Count On
Our concrete cleaning and soft wash roof washing service is designed to give every aspect of your home a completely fresh and clean appearance. You'll be amazed at how much a bright and clean roof and concrete add to the overall aesthetic and curb appeal of your property. Based in Middletown, NJ and serving all of the Central New Jersey area, Evolved Pressure Washing has become synonymous with great service and amazing results over the past decade. Using our local knowledge and industry-leading pressure washing expertise, we are proud to bring convenience, quality, and reliability to every single client, every time. But don't just take our word for it; we invite you to check out our reviews on Google and Facebook!
When you are ready to have concrete surfaces and a roof that brings out the best in your property call, text, or click here for your free estimate!
CENTRAL NEW JERSEY'S SOFT WASH & POWER WASH EXPERTS
Evolved Pressure Washing is New Jersey's 5-Star rated exterior cleaning professional with over a decade of experience in pressure washing, soft washing, roof cleaning, gutter cleaning and so much more. We are based in Middletown, NJ and serve all of Central New Jersey with our expert exterior cleaning services. We keep your property clean and shining like new. We know that we are only as good as our last pressure washing or soft washing job so every property, no matter the size, is treated with our top-level care. Our experienced technicians will always advise you on what cleaning options best fit your needs.