What To Know About Rust Stains & Removal In NJ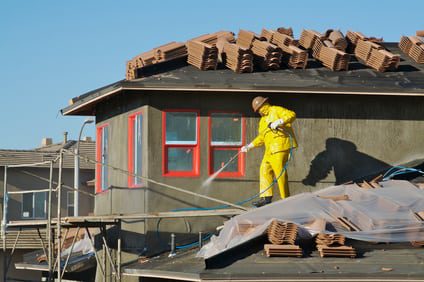 For all your Middletown exterior cleaning needs, you can count on Evolved Pressure Washing. We've put together some information in order to help educate homeowners in New Jersey about rust stain removal.
Metal isn't the only material that causes rust stains. Some fertilizers, soil minerals, and natural sources of water with high iron content also cause rust stains. Lawn furniture, metal gutters, roofing materials, non-galvanized nails and screws, sprinklers, and more could be the cause of unsightly rust stains.
You may want to treat the rust stains with harsh chemicals, but this is not recommended. You are better off calling a Middletown pressure washing contractor who knows safe rust removal techniques. Here's why.
Rust Stain Removal On Siding
In Middletown, rust can be a problem on the exterior of a home. This is most often due to some type of rusting metal on the house and all the moisture from snow and ice during many months of the year.
When rust starts running down the stucco, stone, aluminum, wood, or other siding types, it can look pretty disgusting. The home's beautiful color is marked with unsightly rust stains that simply won't come off easily. Rust can eat away at other materials as well by exposing them to moisture until finally there is algae, mold or mildew growing along with the rust stains.
Chemicals or high-pressure power washing isn't the way to remove rust stains from the siding. Stucco is a concrete product that will easily get damaged if treated wrongly for stain removal. Stains are set in deep and need other techniques to safely remove them. Shaker siding, aluminum, and other materials need specific techniques for rust stain removal.
If you have installed siding, check the owner's manual and the warranty information. You will see that the manufacturer won't honor the warranty if the siding is ruined from unsafe cleaning methods. Softwashing will keep the warranty intact because it won't damage the siding. Make sure to have a professional do the work!
Why Softwash Roof Cleaning For Rust Stain Removal?
The most effective way to clean rust stains on your roof is with non-pressure roof cleaning techniques that do use a significant amount of pressure for the stains without harming the roofing materials. Solutions are used during the soft-wash technique to ensure your roof is rid of rust stains, algae stains, mold, and mildew.
About Concrete Rust Stain Removal
Concrete easily gets rust stains. As mentioned above, there are many possible causes of concrete rust stains for the exterior of your home. The thing you may not know about concrete is that it is more delicate than you may think. Some people may try to use solutions like vinegar and lemon, but these don't penetrate to the root of the stain. Other stronger solutions and pressure washing done wrong can pit your concrete, causing damage. Even good quality concrete experiences accelerated wear from high-pressure washing.
Concrete is a porous substance as it contains millions of microscopic and submicroscopic voids. As water is applied, it fills the space between the particles which decreases the permeability. High-pressure power washing to remove rust stains and grime will accelerate damage to the concrete.
Many homeowners have high-pressure power washing done every year, and when performed by an inexperienced technician who doesn't use the proper pressure and solutions for safe concrete rust stain removal, yearly damage expands exponentially until the concrete becomes brittle.
If you would like to learn more about Rust Stain Removal in Middletown, NJ or surrounding areas, please call Evolved Pressure Washing at [h3phone] or complete our online request form.
CENTRAL NEW JERSEY'S SOFT WASH & POWER WASH EXPERTS
Evolved Pressure Washing is New Jersey's 5-Star rated exterior cleaning professional with over a decade of experience in pressure washing, soft washing, roof cleaning, gutter cleaning and so much more. We are based in Middletown, NJ and serve all of Central New Jersey with our expert exterior cleaning services. We keep your property clean and shining like new. We know that we are only as good as our last pressure washing or soft washing job so every property, no matter the size, is treated with our top-level care. Our experienced technicians will always advise you on what cleaning options best fit your needs.