Marlboro Township's Pressure Washing Pros Offer Much More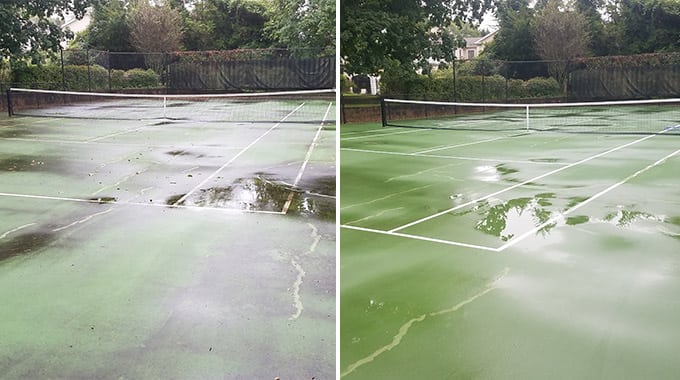 Keeping your property clean is essential for many reasons. When you stay on top of upkeep, you're more likely to be comfortable on your property, you're more likely to take pride in its appearance, and you're more likely to get a good offer if you ever decide to sell it.
That doesn't mean keeping a property clean is easy. On the contrary, when you have so many various areas and surfaces to maintain, from your siding to your hardscapes, the task may seem overwhelming.
Our team at Evolved Pressure Washing can help. Serving customers throughout the Marlboro Township, NJ area, we offer all of the staple exterior cleaning services you would expect such as house washing, concrete cleaning, and roof cleaning.
Of course, when hiring someone to help with such a major task as cleaning your property, you need someone who can help every step of the way. That's why we don't just offer the basics. Our pressure washing experts can also handle the following jobs:
You can probably already tell we don't merely serve residential customers. Sure, a tennis court can make a great addition to a home, but it can also be a standout feature at recreational areas, community centers, schools, apartment complexes, and many other types of properties.
We can handle the job when you need yours cleaned. This is an important task to stay on top of. If you don't thoroughly clean a tennis court, over time, debris, mold, mildew, and other materials will make it very difficult to enjoy gameplay. Avoid that by hiring our experts.
Keeping your gutters clean is essential. That's simply because they play a major role on your property. By directing water away from your home (or similar building), they help you avoid problems ranging from water damage to mold growth.
Unfortunately, when they aren't clean, water can build up, leaking inside eventually. We'll make sure this doesn't happen by cleaning your gutters thoroughly. Along with cleaning your gutters, we'll also test their flow and functionality, making sure they're doing their job exactly as intended.
Hiring pressure washing experts to clean your fencing is crucial. This is true whether your fences are made of vinyl or wood. Quite simply, if the people cleaning your fencing lack experience, they may apply too much pressure, causing unwanted damage. That's not something you need to worry about when you hire us. Every member of our pressure washing knows how to adjust the equipment to strike the right water flow balance. We'll clean your fences thoroughly, without damaging them.
Removing rust and fertilizer stains from your home or concrete surfaces can be very difficult if you're inexperienced. Although it's entirely possible to remove these stains, you need the right equipment for the job. That's yet another reason to schedule service with our pressure washing technicians. We use such innovative products as F9 Battery Acid Restoration Cleaner, thoroughly removing stains that can severely impact the look of your property if they remained unaddressed.
The Value of Professional Help In Marlboro Township
Remember, these aren't all the services we provide. We also handle the basic property cleaning tasks, including cleaning your house siding and roof.
That's very convenient for you. When seeking a pressure washing company to help with your property maintenance needs, it's important to find a team that's qualified to perform a variety of tasks. You'll save yourself a lot of time and headaches by coordinating with experienced and trustworthy professionals who are ready to tackle virtually all your major property upkeep projects.
That's exactly what you'll find at Evolved Pressure Washing, serving customers throughout the Marlboro Township, NJ area. To learn more about scheduling service, click here or call us today at 732-996-6817.
CENTRAL NEW JERSEY'S SOFT WASH & POWER WASH EXPERTS
Evolved Pressure Washing is New Jersey's 5-Star rated exterior cleaning professional with over a decade of experience in pressure washing, soft washing, roof cleaning, gutter cleaning and so much more. We are based in Middletown, NJ and serve all of Central New Jersey with our expert exterior cleaning services. We keep your property clean and shining like new. We know that we are only as good as our last pressure washing or soft washing job so every property, no matter the size, is treated with our top-level care. Our experienced technicians will always advise you on what cleaning options best fit your needs.