When to Consider Middletown Roof Cleaning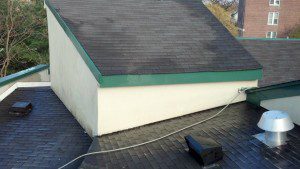 As a Middletown home owner, you likely understand how important it is to keep your roofing system maintained. A roof is like an investment for your home. It keeps your home's structure protected, as well as shield you and your family from harsh weather.
Keeping your roof free of debris and sediment is important to ensuring it lasts for many years. You definitely don't want to have to replace your roof any earlier than you have to. Here are a few things you should know about Middletown roof cleaning and soft washing.
Don't Replace Your Roof Just Yet
Does your Middletown roof look like it's falling apart? If you're seeing black or even green streaks and staining, all hope is not lost yet! While many roofing contractors may recommend that you have your roof replace, sometimes this just doesn't feel like the best option. That's because you can't properly assess the condition of a roof that hasn't been properly cleaned. You might even be surprised to find out that, hiding under layers of gunk, is a perfectly functioning and structurally sound roofing system.
Roof Soft Washing Benefits
There are many benefits and reasons why you should consider having your Middletown roof professionally cleaned. A licensed and experienced roof cleaning contractor will be able to quickly assess the condition of your roof, and help you decide on the best service. When you take good care of your home's roofing system, you can maximize its life expectancy. Standing water, layers of organic debris, and mold and mildew can all contribute to excessive wear and tear on your roof. Our soft washing services will eliminate these issues, removing stains and discoloration, making your roof look great.
If you are looking for a Middletown roof cleaning contractor, please call [h3phone] or complete our online request form.
CENTRAL NEW JERSEY'S SOFT WASH & POWER WASH EXPERTS
Evolved Pressure Washing is New Jersey's 5-Star rated exterior cleaning professional with over a decade of experience in pressure washing, soft washing, roof cleaning, gutter cleaning and so much more. We are based in Middletown, NJ and serve all of Central New Jersey with our expert exterior cleaning services. We keep your property clean and shining like new. We know that we are only as good as our last pressure washing or soft washing job so every property, no matter the size, is treated with our top-level care. Our experienced technicians will always advise you on what cleaning options best fit your needs.