Why You Need Roof Cleaning Service In Middletown, NJ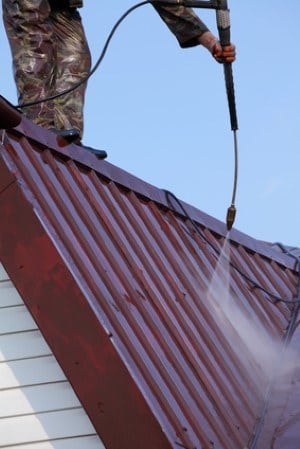 Many Middletown homeowners take special care of their homes. The house inside is well kept, maintenance is performed on systems that support the home, and landscapes and lawns are kept up regularly. But one item is often overlooked when it comes to regular cleaning and maintenance, and that is the roof tops.
Normally, when you drive down the streets of nice neighborhoods, you see these homes all lined up in a nice, neat row. In some neighborhoods, even the homes have similar styles. Unfortunately for some homeowners, the stains or debris on their roofs throws the whole beautiful picture off -but they just don't realize it.
It's not easy to take a fresh look at something you've been seeing day in and day out. But others see these issues very well because it is the first time they come into view. While it is important to spend plenty of time cleaning up around your home, it's equally important not to forget the roof as well.
Your roof is your major investment and repairs or replacement can be an expense you don't want to have to make. If you want to limit the repairs you will need to make in the future, be sure your roof tops stays clean and free from debris.
Roof Debris Causes Rotting
After time, the debris on your roof will only serve to rot the materials underneath. With the addition of a little rain, some chemicals from the environment, berries or acorns, or a few tree branches, the debris will turn into your enemy if left unattended.
These materials degenerate with time, taking any adjacent material with them. When debris on your roof is rotting, the shingles and other materials are no longer able to protect your home.
No matter whether you have asphalt shingles or a metal roof, the roof materials need to be cleaned on a regular basis. Climbing up on the rooftop to clean the junk off your roof can be dangerous, especially when you have no experience with roof cleaning or repairs.
Luckily, most people avoid this issue because they aren't comfortable with ladders or heights, especially when it comes to the fact that you'll also be carrying up equipment to clean the roof. It is better to hire someone with the professional experience than to expose yourself to risk.
Roof Stains Cause Shingle Decay
Stains are another common problem for a lot of roofs. Shingles deteriorate eventually and the lining becomes exposed. This can cause large areas of stains or streaks or both. This is a very common problem. Either the roof materials or failing, or more commonly algae is feeding off the roof and leaving the stains as a byproduct.
You can see proof that this is common if you look in any neighborhood in the country. Many will have streaks and stains. Unfortunately, most homeowners not only don't know that they should have this stained cleaned, but also don't know it can be done.
Pressure Washing & Roof Cleaning Services In Middletown
Pressure washing service in Middletown can take care of roof stains and remove debris. If your roof has black stains or has accumulated debris, they can be removed with a safe washing technique.
Pressure washing is the most effective way to clean up your roof. Either a full pressure wash or a low pressure wash can be used and will depend on an assessment made by the technician who cleans your roof based off the type of materials your roof is made of. Whether you need to just remove some surface dirt or you have some set-in stains that need attention, we can help you at Evolved Pressure Washing, LLC.
We hold a NJ home improvement contractor license and are a pressure washing company that specializes in all types of exterior cleaning of residential and commercial properties. Call our professionals today to learn more about roof cleaning service in Middletown or surrounding areas.
If you have questions or need Roof Cleaning Service in Middletown or nearby, please call [h3phone], or complete our online request form.
CENTRAL NEW JERSEY'S SOFT WASH & POWER WASH EXPERTS
Evolved Pressure Washing is New Jersey's 5-Star rated exterior cleaning professional with over a decade of experience in pressure washing, soft washing, roof cleaning, gutter cleaning and so much more. We are based in Middletown, NJ and serve all of Central New Jersey with our expert exterior cleaning services. We keep your property clean and shining like new. We know that we are only as good as our last pressure washing or soft washing job so every property, no matter the size, is treated with our top-level care. Our experienced technicians will always advise you on what cleaning options best fit your needs.