Stucco Washing Recommendations For Middletown NJ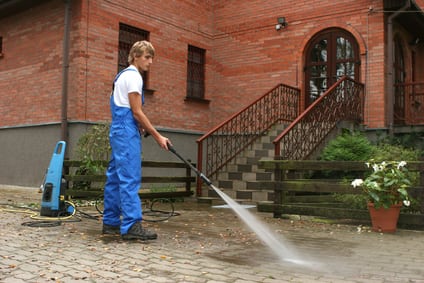 If you have stucco cladding on your Middletown home, it's important that safe washing techniques are used to get it clean. Stucco is a porous material that once exposed to damage will quickly degrade.The stucco work on the exterior of your home is an investment. It's important to ensure it lasts as long as possible. Using cleaning techniques that damage the material will only lead to costly repairs or replacement.
Here are some recommendations from your local Middletown stucco washing pros at Evolved Pressure Washing.
Washing The Stains On Your Stucco
Do you have green, brown, or black algae stains on your stucco exterior? Are there red stains? Red stains are common in areas with high iron content in the soil and rainwater.Stains like this make a home look really bad. The stains often streak down the siding, sometimes all the way from the roof line to the ground.You may be wondering what you can do clean the stains off your stucco. Your best option is to use a very gentle cleaning method on stucco stains. Let us recommend that the last thing you want to do is use a bleach solution on stucco. You should also never try to paint over stains like rust or algae.If your home in Middletown needs stucco washing, trust your investment to a professional. Evolved Pressure Washing is the local professional who cleans all stucco problems safely.
Is Pressure Washing Safe For Stucco?
Only soft washing is safe for cleaning stucco. This should be done by a professional who uses gentle soft wash techniques. The professional solutions will gently clean stains and grime from the stucco surface without damaging the material.High-pressure power washing will damage materials like stucco, asphalt shingles, brick, and concrete.
Washing Old Stucco
Historic homes and buildings with stucco are much easier to damage during cleaning. There are many homes and buildings with stucco exteriors that were built during the early 1900s. New or old, stucco is porous. Water under pressure will etch the surface of the old stucco. Stains need to be treated appropriately based on the type of stain. Professional soft washing by a trained Middletown Pressure Washing technician is the best choice for safely cleaning historic stucco.
If you would like to learn more about Middletown stucco cleaning, please call [h3phone] or complete our online request form.
CENTRAL NEW JERSEY'S SOFT WASH & POWER WASH EXPERTS
Evolved Pressure Washing is New Jersey's 5-Star rated exterior cleaning professional with over a decade of experience in pressure washing, soft washing, roof cleaning, gutter cleaning and so much more. We are based in Middletown, NJ and serve all of Central New Jersey with our expert exterior cleaning services. We keep your property clean and shining like new. We know that we are only as good as our last pressure washing or soft washing job so every property, no matter the size, is treated with our top-level care. Our experienced technicians will always advise you on what cleaning options best fit your needs.