Summer Is The Best Time To Pressure Wash Your Home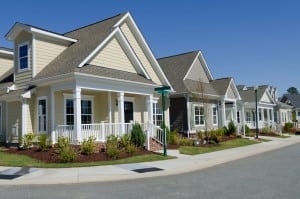 With summer just a few short weeks away, homeowners all over the country are buckling down and working hard to get their spring cleaning lists finished, and for many homeowners, that work is going to continue on into the summer months. The fall and winter months can really do a number on the exterior of your home, and sometimes, and if you are looking for a great way to brighten up the your home's exterior surfaces once again and get your home looking its best, investing in a professional pressure washing is definitely something to add to your list for the coming summer months. When it comes to pressure washing, summer is actually the ideal time to get this particular kind of work done, and in an effort to show you why that is, our team of professionals have taken the time to put together this short list highlighting just a few of the many reasons that go to make the summer months the perfect time for pressure washing your home.
The Weather Is Perfect
First and foremost, the biggest factor that helps to make summer the ideal time for pressure washing your home is that the weather is almost perfectly suited to the job. With the sun coming up earlier, and going down later, there are more daylight hours in which to get the job done, and that means you have much more leeway in when you are able to schedule your appointment for service, in addition to our team of professionals being able to complete larger jobs in the course of a single day instead of having to make a follow-up appointment. Additionally, summer tends to be a bit drier than spring, which lends itself very well to the work.
Longer Lasting Results
Because the summer months are typically dryer than the spring, it usually means that your freshly washed property is going to stay cleaner for longer, giving you more value for your investment. Between the harsh, continual rains of spring, and all of the falling leaves an organic debris during the fall, summer gives you an ideal time to get your home's exterior clean and have some time to truly enjoy it. Additionally, the summer months usually have a great deal less pollen in the air, helping you avoid further buildups on the side of your home after having it washed.
Eliminate Mold & Mildew
With the plethora of rain and moisture over the spring months, combined with the rising temperatures, there is a very real chance that you have mold and mildew forming on the exterior surfaces of your home, and given the chance, these contaminants will only continue to grow and do their best to deteriorate your home's exterior surfaces. Having your home professionally pressure washed this summer will ensure that all of these potentially harmful contaminants are safely and effectively removed from the surfaces of your home, keeping them well protected and helping to extend their lifespan.
If you are looking for a professional Middletown pressure washing contractor, give us a call today at [h3phone] or fill out our online request form.
CENTRAL NEW JERSEY'S SOFT WASH & POWER WASH EXPERTS
Evolved Pressure Washing is New Jersey's 5-Star rated exterior cleaning professional with over a decade of experience in pressure washing, soft washing, roof cleaning, gutter cleaning and so much more. We are based in Middletown, NJ and serve all of Central New Jersey with our expert exterior cleaning services. We keep your property clean and shining like new. We know that we are only as good as our last pressure washing or soft washing job so every property, no matter the size, is treated with our top-level care. Our experienced technicians will always advise you on what cleaning options best fit your needs.