Tennis Court Cleaning in Middletown NJ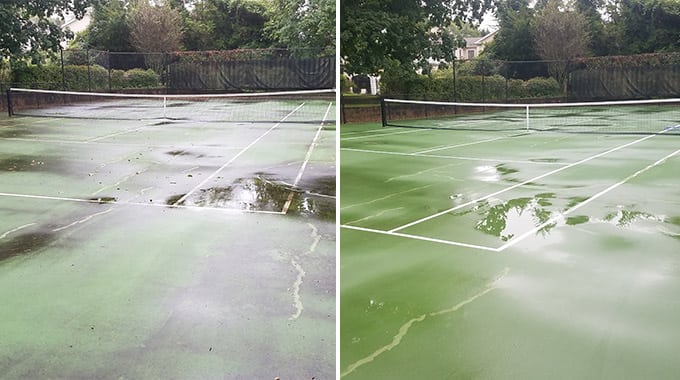 Tennis is more than just great exercise; it's an exciting sport with competitors who are vying for each point! While no one can predict the outcome of a tennis match, you do want to be able to rely on the quality and readiness of your tennis court itself. With Mother Nature always willing to deposit leaves, debris, dirt, and mold on your tennis court surfaces, having your tennis courts professional cleaned by the tennis court cleaning experts at Evolved Pressure Washing is the perfect way to make sure that your tennis courts are ready to host every set!
Serving Up A Clean Tennis Court Surface
As our name implies, at Evolved Pressure Washing we have moved past simply blasting your tennis court with extremely high pressure in order to clean it. Simply put, very high pressure or power washing techniques creates a force that most tennis court surfaces just cannot handle. Not only does it not yield the best results, but it can ruin the look and playability of the area itself as ultra-high pressures can lead to splitting, warping, and surface traction deterioration.
Our tennis court cleaning solution employs a special blend of deep cleaning detergents that reduce the amount of pressure that we need to use in order to safely achieve the maximum results. Our tennis court cleaning service will remove:
Leaf Buildup
Rust Stains
Algae, Mold & Mildew
Fallen Debris
And much more!
Middletown NJ's Tennis Court Cleaning Experts
Tennis courts are not just recreational areas, with their bright surfaces, bold colors, and clean lines they can add to the overall curb appeal of your property. With Evolved Pressure Washing you can expect your tennis courts to be a safer (improved traction means less slip and fall accidents) and fungal-free environment. As a specialized surface, it's important that you select a professional cleaning company that has experience in cleaning and treating tennis courts. Our team of professional tennis court cleaning experts are armed with years of experience and dedication to the highest quality of workmanship. So whether you are preparing your tennis court surface for a winter break or gearing up for a new outdoor tennis season trust the tennis court cleaning experts at Evolved Pressure Washing to keep your court in play all year long!
If you are looking for a reliable, professional Middletown pressure washing contractor, give us a call today at [h3phone] or fill out our online request form.
CENTRAL NEW JERSEY'S SOFT WASH & POWER WASH EXPERTS
Evolved Pressure Washing is New Jersey's 5-Star rated exterior cleaning professional with over a decade of experience in pressure washing, soft washing, roof cleaning, gutter cleaning and so much more. We are based in Middletown, NJ and serve all of Central New Jersey with our expert exterior cleaning services. We keep your property clean and shining like new. We know that we are only as good as our last pressure washing or soft washing job so every property, no matter the size, is treated with our top-level care. Our experienced technicians will always advise you on what cleaning options best fit your needs.