The Benefits of Residential Concrete Cleaning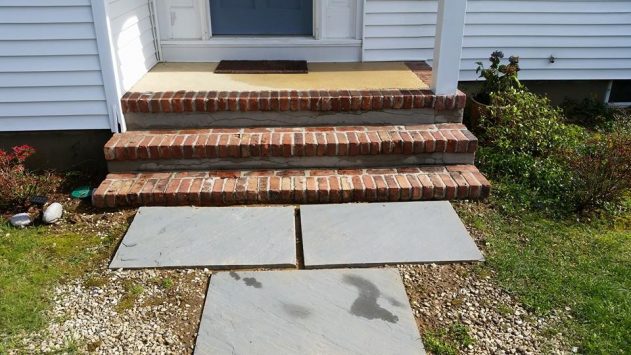 It's likely that you have many concrete surfaces on your home's property. That's why it's important to schedule regular residential concrete cleaning with experienced professionals. As pressure washing specialists, our team at Evolved Pressure Washing, serving all of Central New Jersey, has the proper expertise to keep your driveways, porches, and any other concrete surfaces in great shape for years.
There are many reasons scheduling residential concrete cleaning service is important. The following are simply some of the more noteworthy:
Boosting Curb Appeal
Your concrete surfaces play a major role in your home's curb appeal. Thus, keeping them clean yields major benefits.
One is improved comfort. Research shows that people are psychologically wired to prefer clean environments. If your concrete surfaces are dirty, you won't feel relaxed and content on your own property. On the other hand, if they're bright and clean, you'll be much happier. The same goes for any guests. It's a lot easier to feel proud of your home when inviting people over if the property is clean.
Attracting Buyers
Curb appeal also contributes to a home's value. After all, if you ever plan on selling your home, you want to make the right impression on potential buyers when they first see it from the street. If your concrete surfaces aren't well-maintained, they'll be less inclined to make a high offer.
This is an entirely fair response. No one wants to pay more than they should for a property with dirty surfaces that appear likely to need to be replaced in the near future. If you ever plan on selling your home, whether it's a year from now or 10 years from now, being vigilant about scheduling residential concrete cleaning is essential.
Boosting Safety
Many different contaminants can build up on concrete driveways, walkways, and related areas if they aren't cleaned regularly. Some of these, such as algae and oil stains can make concrete very slippery when it gets wet.
This puts you and other occupants of your home at risk of slip and fall injuries. Guests will also be in danger. If they're injured on your property, you'll might be stuck covering their medical bills. Make sure this doesn't happen by maintaining clean concrete surfaces.
Inspiring You
A concrete surface can play many different roles on your property. For instance, perhaps you have a concrete patio area. Maybe one day you might like to add some outdoor furniture and a fire pit to turn it into a more attractive lounge area.
This is the type of project you'll be inspired to tackle if the area is clean. Unfortunately, if it's dirty, you're not going to want to use it for much. Quite simply, residential concrete cleaning gives you the opportunity to use various sections of your property in ways you wouldn't consider if you didn't schedule regular service.
Why You Need Professional Residential Concrete Cleaning
Keeping your concrete surfaces clean isn't something you can do on your own. To thoroughly remove all contaminants, you need to use special tools and techniques. It's worth noting that many of these tools, such as pressure washers, could be dangerous in the wrong hands. You run the risk of injuring yourself, damaging your property, or both if you attempt to clean your own concrete surfaces. You're also likely to overlook certain areas that need more attention than you might realize.
It's a much better idea to hire specialists who've been doing this type of work for years. You'll get superior, longer-lasting results when your concrete is in the hands of qualified professionals.
At Evolved Pressure Washing, serving homeowners throughout central New Jersey, that's exactly what you'll find. To learn more about what we can do for you, click here for a free estimate or call us today at 732-996-6817.
CENTRAL NEW JERSEY'S SOFT WASH & POWER WASH EXPERTS
Evolved Pressure Washing is New Jersey's 5-Star rated exterior cleaning professional with over a decade of experience in pressure washing, soft washing, roof cleaning, gutter cleaning and so much more. We are based in Middletown, NJ and serve all of Central New Jersey with our expert exterior cleaning services. We keep your property clean and shining like new. We know that we are only as good as our last pressure washing or soft washing job so every property, no matter the size, is treated with our top-level care. Our experienced technicians will always advise you on what cleaning options best fit your needs.