Why Homeowners Need Soft Wash Roof Cleaning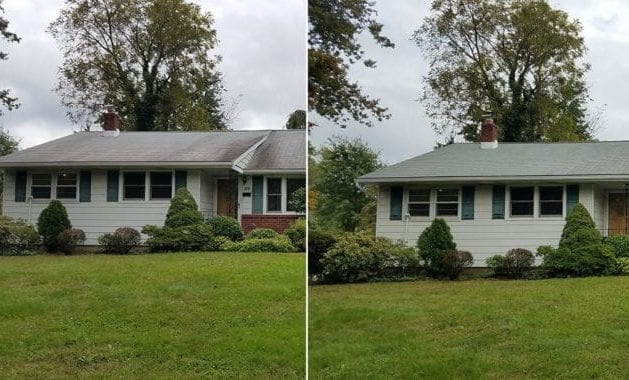 A home is an investment. Protecting it involves staying on top of maintenance. You don't want to spend more money than you should on repairs and bills because you didn't prioritize upkeep.
That's why, as a homeowner, you should schedule regular soft wash roof cleaning service with our team at Evolved Pressure Washing, serving customers throughout the Deal, NJ area. Doing so yields the following major benefits:
Saving Money
A dirty roof is obviously an eyesore. No one enjoys owning a home that looks unattractive from outside. However, it's important to understand that black streaks and other ugly marks aren't merely unattractive. Odds are good they're a sign that organisms such as Gloeocapsa Magma have begun to accumulate in your roofing.
Removing them as soon as possible is crucial. These organisms can damage shingles over time, forcing you to replace your roofing sooner than you would have needed to if you'd scheduled regular soft wash roof cleaning service consistently.
It's also worth noting that your roof insulates your home and protects it from the elements. When it's damaged, more outside air can get in, making it necessary to run your HVAC system often. Your energy bills will go through the roof (no pun intended) as a result. Additionally, running HVAC equipment too frequently reduces its lifespan by putting wear-and-tear on the system. Repairing or replacing it will thus be another bill you need to cover.
On top of all that, if the roof is damaged, water can leak into your home. This obviously leads to costly water damage. It can also promote mold growth. Mold thrives in moist environments, and although removing it is expensive, it's also essential, as mold can pose a health risk to those who are allergic to it. Even if you're not allergic to mold, being exposed to it may still lead to discomfort.
These aren't problems you have to face as a homeowner. With professional soft wash roof cleaning, you'll avoid such issues, enjoying your home (and saving money) for years.
Making Money
Keeping your roof clean doesn't merely reduce your spending. It can also help you earn more money in the future if you ever plan on selling your home.
Quite simply, many factors impact how valuable a home looks to potential buyers. Curb appeal is one of them. When visiting your home for the first time, buyers who are greeted by an ugly, dirty roof will get the wrong impression. Luckily, if the roof is clean, you can impress them right off the bat, boosting the odds that they'll make a high offer.
This is important to remember even if you don't think you'll be selling your home anytime soon. Research shows that people are naturally happier, calmer, and more comfortable if their surroundings are cleanly. That's something all homeowners seem to intuitively understand. When your home is dirty, you've likely noticed that it has a negative impact on your mood. It's not pleasant to be confronted with an ugly roof every time you return to the house after going out. When the roof is clean, however, your experience at home will be far more enjoyable.
Reliable Results
Don't make the mistake of trying to clean your roof on your own. Pressure washing it can actually cause more damage.
That's not an issue when you hire professionals who specialize in soft wash roof cleaning. At Evolved Pressure Washing, serving homeowners throughout the Deal, NJ area, our team applies low-pressure water mixed with eco-friendly detergents that thoroughly remove contaminants from your roofing.
Interested in learning more about scheduling service? Give us a call today at 732-996-6817 or click here to get your free estimate!
CENTRAL NEW JERSEY'S SOFT WASH & POWER WASH EXPERTS
Evolved Pressure Washing is New Jersey's 5-Star rated exterior cleaning professional with over a decade of experience in pressure washing, soft washing, roof cleaning, gutter cleaning and so much more. We are based in Middletown, NJ and serve all of Central New Jersey with our expert exterior cleaning services. We keep your property clean and shining like new. We know that we are only as good as our last pressure washing or soft washing job so every property, no matter the size, is treated with our top-level care. Our experienced technicians will always advise you on what cleaning options best fit your needs.