Why Your Siding Needs Soft Wash House Washing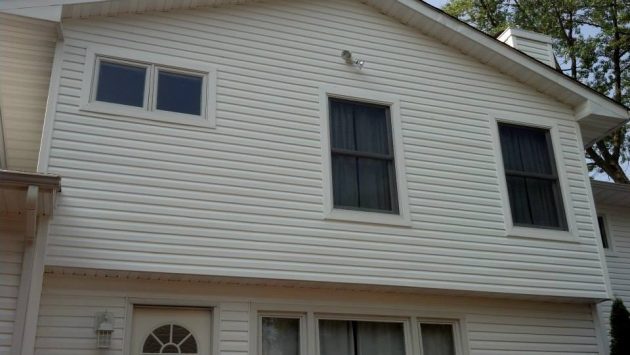 Your home's siding is essentially its "face." This is the part of your home you show off to the world. Thus, keeping it in the best possible condition should be a major priority.
That's why our team at Evolved Pressure Washing, serving all of Central New Jersey, recommends scheduling regular soft wash house washing. There's only so much you can do on your own to maintain your siding. To get thorough results, you need help from experts with the proper training and tools.
Scheduling this service regularly offers many key benefits, including the following:
Boosting Curb Appeal
Maintaining your home's curb appeal is essential for numerous reasons. Being happy with the look of your house is a basic (but important) one. According to research, clean and tidy surroundings make people happier and more relaxed. Uncleanliness has the opposite effect.
You also need to consider the impression your siding can make on potential guests. You want friends and family to enjoy their visits. If the first thing they see when they pull in the driveway is dirty, damaged siding, it's going to affect their mood.
The same goes for anyone who may consider buying your home in the future. Real estate experts point out that curb appeal plays a major role in just how valuable a home looks to potential buyers. If you want to get the best possible offer for your house, you have to make sure the siding is in the best possible condition. This is a major reason scheduling soft wash house washing is good for your health and your wallet.
Guarding Against Damage
Mold, mildew, and general grime tend to develop in siding that hasn't been cleaned regularly. This may result in siding damage. If left unaddressed, they could even get into the home's actual framework.
That's the last thing you want. Addressing structural damage and mold growth is very expensive. Unfortunately, it's also very necessary. The presence of mold will simply make you uncomfortable in your own home. For people who are allergic to mold, it can pose a serious health risk.
Damaged siding also leaves your home vulnerable to the elements. Your house will be more likely to sustain water damage as a result.
It will be less insulated as well. This can lead to high energy bills. When your home isn't properly insulated, you need to run your HVAC equipment more often, driving up bills and putting your equipment through the kind of wear and tear that shortens its lifespan. Avoid these problems by scheduling regular soft wash house washing.
Prolonging Your Siding's Lifespan
Your siding is a major investment. Its lifespan can also vary depending on a number of factors.
How vigilant you are about cleaning it is one of those factors. Again, dirty siding doesn't just look bad. It can also become damaged thanks to mold and other contaminants. If you don't make a point of cleaning it regularly, you'll have to replace it sooner than you otherwise would. Once more, this is an unnecessary expense that's entirely avoidable.
The Importance of Professional Soft Wash House Washing
Don't make the mistake of trying to clean your home's siding on your own. Yes, you can perform some basic upkeep, but for a thorough clean, you need to coordinate with professionals. Using the wrong equipment to clean your siding can actually result in more damage.
That's not something you have to worry about when you hire our team at Evolved Pressure Washing, serving Middletown, NJ (and all other Central NJ communities). We'll use the right tools to ensure your siding is in the best possible condition. For more information about scheduling service, get a free estimate today.
CENTRAL NEW JERSEY'S SOFT WASH & POWER WASH EXPERTS
Evolved Pressure Washing is New Jersey's 5-Star rated exterior cleaning professional with over a decade of experience in pressure washing, soft washing, roof cleaning, gutter cleaning and so much more. We are based in Middletown, NJ and serve all of Central New Jersey with our expert exterior cleaning services. We keep your property clean and shining like new. We know that we are only as good as our last pressure washing or soft washing job so every property, no matter the size, is treated with our top-level care. Our experienced technicians will always advise you on what cleaning options best fit your needs.